With new breakthrough technologies to successfully treat your pain:
Spinal Decompression
Radial Shockwave Therapy
Acupuncture
IMS (Intramuscular Stimulation)
Physiotherapy
Foot and Ankle disorders
Spinal manipulations
Deep Tissue Massage
Biomechanical Assessments
Neural Pain Myo-Stimulation
Comprehensive Gait Analysis
Medical Pain Management (pharmaceuticals)
Post-Operative Rehabilitation
Our Unique Difference
The problem with many types of chronic pain is it is complicated, interrelated and often requires more than one type of doctor or medical professional to effectively treat.
Often, medical professionals from different professions do not collaborate or work together with a common philosophy. They often lack the latest in advanced technology or do not have the available resources to most effectively treat complicated problems. One health care provider for example, may provide only Spinal Decompression or Acupuncture. Another may prescribe pain medication or physiotherapy.
At Total Body, we have developed a series of individualized protocols using the skills of our entire health care team combined with the latest in advanced technology. This unique approach has proven a great advantage in cases ranging from minor to severe. For example, a patient experiencing minor musclo-skeletal pain may only require a few minor treatments. A patient with severe back pain may undergo a comprehensive treatment regime such as the following treatment protocol:
At TOTAL BODY MEDICAL each patient undergoes a comprehensive examination where your medical history is reviewed and you have the opportunity to communicate your pain symptoms, previous treatments undertaken, responses to these treatments, as well as your goals for further treatment. Following this procedure it will be determined which health care professionals are best able to assist in your care and timely recovery – a customized treatment protocol will be created specific to you. Our protocols are based on the latest scientific literature – using techniques that have been proven to be the most successful.
A comprehensive protocol such as the above is not possible without combing the skills and talents of multiple health care professionals and utilizing the latest medical technology. We are so confident in our approach, we offer all our patients a satisfaction guarantee.

.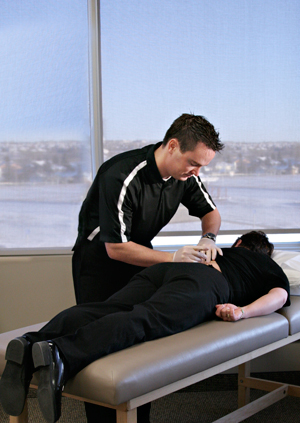 Do You Still Suffer From Pain In Your:
Neck
Back
Shoulder
Elbow
Hip/Knee
Feet
Other
Finally a complete team of medical professionals
all in one location:
- Family Physicians (as required)
- Physiotherapists
- Podiatrists
- Chiropractic (as required)
- Deep Tissue Massage Therapist
- Kinesiologist
- Sports Injury and Athletic Therapy
| | |
| --- | --- |
| Active Member of the International Society for Musculoskeletal Shockwave Therapy | |